With a total series death count of 52, you know there are bound to be some outrageous moments in Desperate Housewives,  but the thing is, almost every episode contained something shocking.
From natural disasters to murder cover-ups and replacement children, Desperate Housewives, had some of the most jaw-dropping storylines on TV.
Here are the 10 most shocking from Desperate Housewives' eight seasons: (绝望的主妇全剧十个最令人惊叹的故事情节)
10. Body in the freezer (Season 3)
Karen McClusky was Lynette's neighbourhood nemesis-turned-beloved babysitter, but in Season 3 became memorable for another reason. She had been keeping her husband's dead body in a freezer. Once discovered, Mrs McClusky was reported to police. However it turned she had nothing to do with Gilbert's death itself. She had come home to find him dead and didn't report it so that his pension checks kept coming to her instead of his first wife.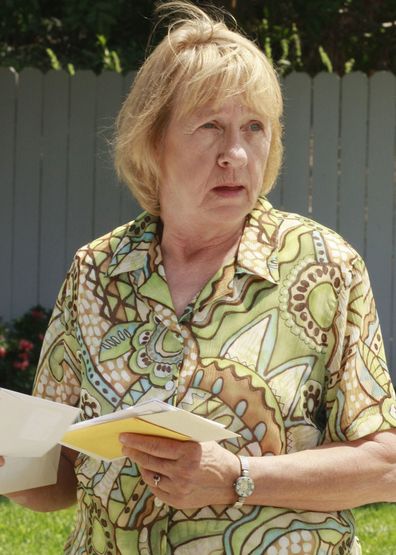 Mrs McClusky was the resident babysitter on Wisteria Lane. (Nine)
9. Plane crashes into Santa's Workshop (Season 6)
It was Christmas on Wisteria Lane when a light plane crashed on the street, sliding right into the festivities. The passengers on board the plane were random couple Jeff and Daphne Bicks who were arguing during the ill-fated flight. Also arguing were Lynette and Gabrielle, as well as Bree's husband Orson and Susan's ex-husband — and Bree's divorce lawyer — Karl.
Bree, Orson and Karl were all in Santa's Workshop when the plane smashed into it. Karl ended up dead, as did local Mona Clarke along with Jeff and Daphne. Lynette managed to save Gabrielle's daughter Celia by pushing her out of the way, however she lost her unborn son in the process. This disaster had the highest body count in the entire series.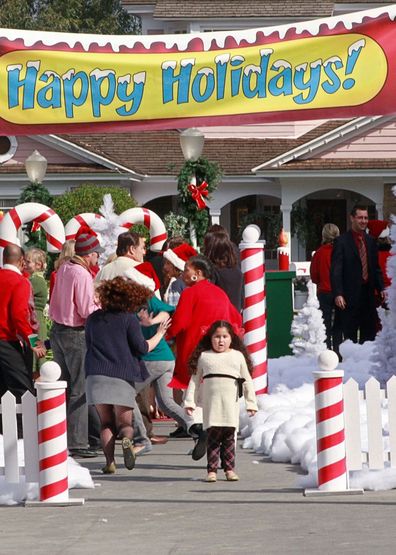 Celia is too shocked to move as the plane hurtles to the ground. (Nine)
8. Angie switches the bomb on her husband (Season 6)
Angie Bolen moved to Wisteria Lane with her husband Nick and son Danny in search of a fresh start. Before Danny was born she was involved with eco-terrorist Patrick Logan, Danny's father. Years later Patrick found out where Angie was living and held her and Danny hostage in their house. He asked Angie to make him a bomb but when he went to detonate it, Angie ran free leaving Patrick in the car with the bomb, which she had planted in the detonator.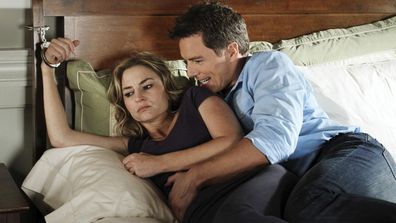 Angie is held hostage by her ex before getting pay back in the most shocking way. (Nine)
7. Boy in the basement (Season 2)
Betty Applewhite arrived on Wisteria Lane in mysterious circumstances but the truth about her family was far more disturbing. During Season 2 she kept her intellectually- disabled son Caleb locked in the basement because she believed he'd murdered a teenage girl. However, her other son Matthew had killed the girl and blamed it on Caleb. After Matthew tricked Caleb into sneaking into Danielle's room, Betty decided to poison him until Caleb revealed Matthew was behind it. So Betty then locked Matthew up in the basement until Danielle set him free. Soon Betty realised the truth about the murder and Matthew was killed by police.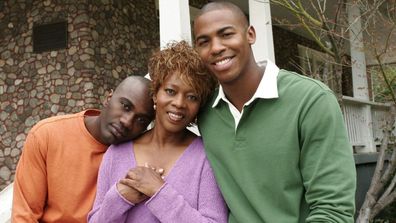 6. Supermarket hold-up (Season 3)
Carolyn Bigsby spent most of her time on Desperate Housewives trying to convince Bree that Orson was a bad man. But Carolyn is remembered for a more shocking storyline in which she held customers, including Lynette, in a supermarket hostage after finding out her husband had an affair. During the chaos, Carolyn shot Nora and Lynette became enraged. Just as Carolyn shot Lynette, Art Shepherd threw a can of soup at Carolyn and the bullet ended up only grazing Lynette's shoulder. Carolyn was then shot dead.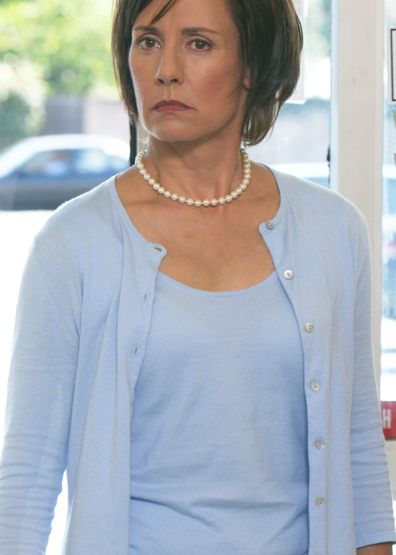 5. Fake daughter (Season 4)
When Katherine Mayfair and her daughter Dylan returned to Wisteria Lane after years living elsewhere, Dylan had no memory of the place. That's because the real Dylan died when a wardrobe fell on top of her, so Katherine adopted a child from a Romanian orphanage and convinced the lookalike girl she was Dylan. Both Dylan and Katherine's first husband got suspicious about the truth of Dylan's parentage, and Katherine was eventually forced to reveal the truth.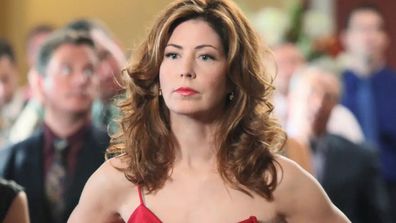 4. Tornado strikes Wisteria Lane (Season 4)
As if there weren't enough man-made disasters happening on Wisteria Lane, natural ones wreaked havoc as well. A tornado blew through the street, demolishing Mrs McCluskey's house with Lynette's family inside. Lynette and Mrs McCluskey had ran out of the house after Ida Greenberg's cat. They later found out Lynette's family was OK but Ida died.
Meanwhile, Gabrielle's second husband Victor was attempting to shoot her ex, Carlos, when Victor was impaled by a piece of debris from the fence. Another piece of fence struck Carlos in the head resulting in blindness.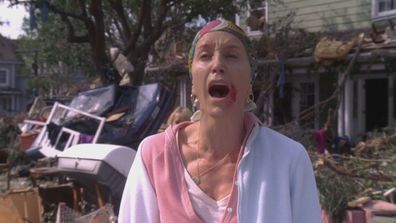 3. Mike dies (Season 8)
He arrived at the beginning of Season 1 but Mike Delfino didn't make it the entire series without adding to the body count. Mike had caught loan shark Donny sneaking into Renee's house and destroying the place. So Donny vowed revenge. Just as Mike and Susan were having a heartfelt conversation Donny shouted Mike's surname and Mike pushed Susan out of the way as Donny shot him. Flashbacks of Mike and Susan's relationship were shown before Mike was revealed to be dead.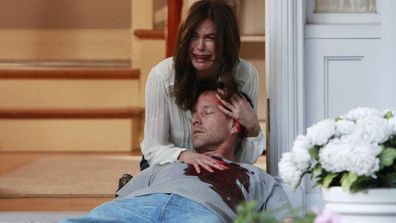 2. Mystery behind Mary Alice's death (Season 1)
Mary Alice narrated Desperate Housewives from beyond the grave after taking her own life. The very first neighbourhood mystery the women ever looked into was who was behind the blackmail that drove Mary Alice to make that fateful decision. It turned out Mary Alice and Paul — whose real names were Todd and Angela Forrest — had bought their son Zach from a former patient at the rehab facility Mary Alice worked at. Mary Alice, Paul and Zach moved to Wisteria Lane and changed their names. When the patient came back for her child, Mary Alice killed her. Later, neighbour Martha Huber discovered what they had done and blackmailed Mary Alice.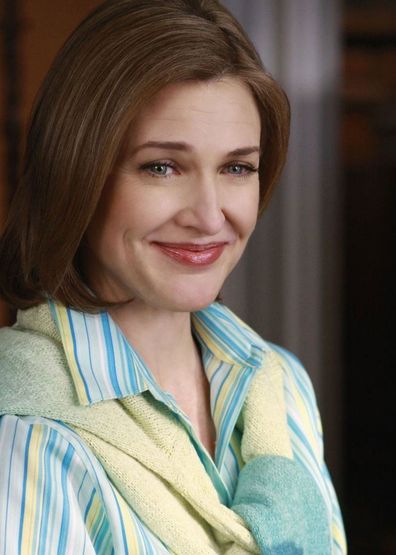 1. Edie Britt dies (Season 5)
The death of main character Edie was not only shocking for the way it played out in the show but it also caused controversy off screen. Edie discovered her husband Dave had married her to get closer to Mike, who caused the car crash that killed Dave's wife and daughter. When Edie confronted Dave he tried to strangle her but she managed to run free and get in her car. She tried to call Mike but Orson ran in front of her car. In an attempt to miss Orson, Edie crashed into an electricity pole. She got out but stepped in a puddle and was electrocuted by a dangling wire.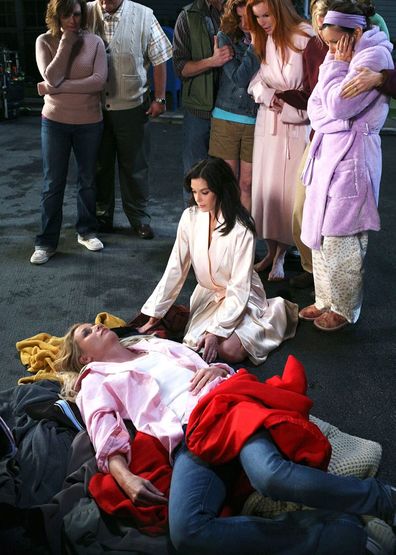 声明:本站所有文章,如无特殊说明或标注,均为绝学社原创发布。任何个人或组织,在未征得本站同意时,禁止复制、盗用、采集、发布本站内容到任何网站、书籍等各类媒体平台。如若本站内容侵犯了原著者的合法权益,可联系绝学社网站管理员进行处理。